Techpaulin is reliable, matches high quality standards and finds application in an extensive range of agricultural and industrial applications.
AGRICULTURAL
Techpaulin has wide use for agricultural applications. Available in variety of sizes and can also be made available in customized sizes.
LUMBER COVER / TIMBER PACK
Can be used as a wrap film / cover to protect cargo from dust & moisture.
Prevents condensation and staining of wood
Outside layer reflects light and provides area for marking
Extremely rigid material can be used in extreme weather
Can also be used to wrap lumber in raw state to prevent deep scratches and damages during handling and transporting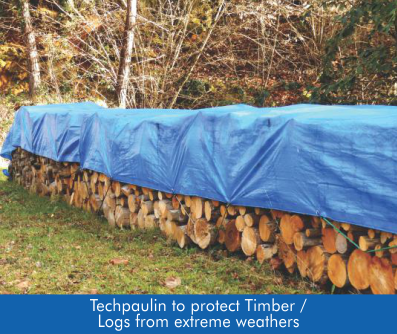 Properties
Heavy duty - yet light weight
100% water & weather proof
Tear resistance
Chemical resistance